The sun had just begun to rise near Virgin, Utah, when
Hannah Bergemann
began to climb. Shouldering her 35-pound downhill bike, Bergemann walked steadily up a narrow desert ridgeline. When she reached the top, she looked down the line that she and her dig crew had patiently carved out of the red desert sand, peeling back layers of prehistoric stone. If Bergemann felt any nerves, she didn't show them.
Then she began to ride. With precision, Bergemann followed the narrow track unwinding along the canyon wall as the landscape blurred beneath her wheels. She hit her first jump, flying over the gap. The ground dropped into wide-open air beneath her. Then came a series of ledges, a staircase made for giants formed out of rock layers, none of them laid straight. A steep chute sent her hurtling down until, at last, Bergemann arrived at a final jump. She soared over the gap cleanly, her bike's suspension compressing under the force of the landing.
Bergemann had come to Virgin for Red Bull Formation, a freeride camp for women. The groundbreaking October 2019 event brought together six of the world's best freeride mountain bikers and gave them the opportunity to ride in the storied Utah terrain made famous by Red Bull Rampage. A few of the riders, like Bergemann, had ridden there previously. But for the others it was all new. Certainly, it was all the riders' first opportunity to work collaboratively to push the boundaries of their sport.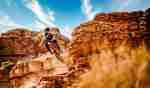 There hasn't been a lot of space for women to pursue freeride—I feel like this is the start.
After five days in the desert, the women of Formation had transformed the landscape of women's mountain biking. No longer could anyone say that women lacked the skills to ride the intense and unforgiving terrain of the Utah desert. They had united to create the foundations for women's freeride to fly. Together, they had created a new beginning.
"It gave me confidence to start from a blank slate on the mountain and make it into something rideable that pushed my limits," says Bergemann. "There hasn't been a lot of space for women to pursue freeride—I feel like this is the start."
Formation's roots go back to 2017, when
Rebecca Rusch
traveled to Rampage as a guest. A decorated endurance mountain biker, Rusch had never seen the iconic event in person. She stood in awe of the riding skills on display but couldn't help wondering why no women were competing. She began to ask questions. "I was the pot stirrer," she says.
Rusch learned that Rampage had never specifically excluded women. But none had ever qualified. "I felt like I had to be the one to push. I was not a freeride athlete, so it wasn't like I was out for myself," she says. "I had no skin in the game; it was just the right thing to do."
It's just this dude environment. It's hardcore, and it's gnarly.
With that push, the conversation about where women fit into the Rampage picture began in earnest. "There were some hard conversations," Rusch recalls. The next year, a crew of Red Bull athletes, female gravity riders and Rampage veterans gathered around a table to discuss the idea of a women's event in Virgin. Should women be added to Rampage? Should there be a separate event? No one knew exactly what equality and inclusion for women looked like in the context of Rampage.
"I think people just could not picture what it would look like for a woman to ride it," recalls Katie Holden, a now-retired downhill pro who was at the table that night. "It's just this dude environment. It's hardcore, and it's gnarly."
Holden had her own history with Rampage. Like many female riders, Holden had started her career as a racer, but it had never felt like the right fit. When the offer to partner with women's brand Liv came along in 2013, she jumped at the chance to do something new. She became a brand ambassador and built a portfolio of travel, filming, clinic events and freeriding. Holden's new role also opened the way to chase her dream of qualifying for Rampage.
"There wasn't a path to Rampage for women, because it had never been done before," she says. "I just tried to spend a lot of time out there and be a sponge and learn as much as I possibly could."
After spending several years digging at Rampage and riding the terrain in Virgin, Holden put all her chips on the table. Together with a filmer and photographer, Holden went to the desert to make a movie she hoped would score her an invite to Rampage. "I put everything into it," she says. Her attempt ended quickly, though, when she crashed and tore her calf muscle. "It was really emotional," she says. "I realized that dream was not going to come true." Two years of injuries followed, while the level of riding at Rampage rose exponentially.
Even as Rusch began asking questions, Holden still felt the sting of regret. "I had wanted to be the girl who made Rampage," she says. At the same time, she had begun to come to terms with what had gone wrong for her. In retrospect, she could see that though she came close to reaching the heights required to compete at Rampage, she didn't have the perfect skill set to do it. And she saw that her approach had isolated her in crucial ways.
So when the chance came to design a women's event in Virgin, Holden was all in. Here was a way to put her experience to work and build a space for women to succeed. "I don't like to say that I failed, because I don't really believe in failure, but my experience was a stepping stone for Formation," she says. On a drive to her mom's house on Whidbey Island from her home in Bellingham, Washington, Holden pulled over to sketch the outlines of a women's freeride camp. By the time she arrived, she knew: Formation was on.
When New Zealander Vinny Armstrong stepped off the plane in Las Vegas, she'd never seen the desert. "It feels like a different planet," she says. Known for her stylish airs, she stood at a crossroads in her career at the time. "I was really tossing up whether I was going to keep trying to be a World Cup racer or do a freeride career," she says.
The six riders invited to Formation came from diverse corners of the mountain biking world, but most shared a background in World Cup downhill racing. As Holden considered riders, she felt the experience of learning World Cup tracks and dealing with the pressures of racing would help them navigate the steep challenges posed by riding in Virgin. Holden also felt the need to prove that women could handle riding the area's unforgiving terrain. She wanted to set them up for success. "A lot of people didn't believe in Formation before Formation came to be," she says. "So I felt like we had to make it perfect in order for people to jump on the train."
The sandstone walls of the canyons around Virgin are marked with tracks and jump lines that riders have built over time. During its 12-year history, Rampage has used several sites in the area, and the remnants of many features remain. "It was exciting just to see all that in front of my eyes," says Veronique Sandler, who is based in the U.K. and focuses on filming. She recognized a number of the jumps from seeing them in Instagram clips from Utah-based riders such as
Jaxson Riddle
and Ethan Nell.
On the first day, the women headed to one of the original Rampage sites to acclimate to the terrain. "Just getting used to the exposure—there are times when your brain just goes 'no, that's just not even something I'm going to try,' " says Canada's Vaea Verbeeck, who won the overall at the Crankworx series in 2019. Riding in the desert, some of them for the first time, the group tested the traction and braking points as they began to uncover the desert's secrets. "It takes a bit to get used to it, because you still get heaps of grip, even while sliding and drifting everywhere," says Armstrong. "It's just so sick."
The first day also let the women reconnect. All six riders knew one another from past events, but typically they spent their time competing against each other. From the start, Holden envisioned Formation as a collaborative effort to raise the level of the sport. The women embraced the concept. "We were legit standing next to each other, discussing everything together, brainstorming together, trying to make it work together—for each other," says Verbeeck.
The next day, the women and their crews headed to the 2015 Rampage site and began digging the lines they planned to ride. An often under-appreciated element of Rampage is the skill required to dig tracks and features into the walls of the canyons. "One of the hardest parts is seeing raw terrain and being able to visualize how to turn it into something you want to ride," says Bergemann.
Both Bergemann and Sandler spend hours digging at home, but working in the desert was different. "I do a lot of digging but it's so different out there," says Sandler. "Casey Brown was injured unfortunately, but she's done digging at Rampage before, and she had tons of tips for us."
A lot of people didn't believe in Formation until Formation came to be.
After three dig days, the women had created three very different lines. Bergemann and Canadian freerider Micayla Gatto went big with exposed, high-consequence features. Bergemann and her dig team built a long, steep track with multiple drops and gap jumps. With help from Rusch, big-mountain skier Michelle Parker and motocross racer Tarah Gieger, Gatto sculpted a fast chute down the narrow spine of a ridgeline. Her line included two blind step downs.
Across the canyon face, Sandler, Verbeeck, Armstrong and British World Cup racer Tahnée Seagrave collaborated on a flowing track that they dubbed the "party line." These riders sought space to show their style and throw a few tricks into the mix. "At first, it was like, 'this looks crazy!' " says Verbeeck. "But by the time we rode it, we didn't know how easy it would feel." Their line included a series of drops, an arcing berm and a jump line at the end.
"Every line showed each rider's personality, and that's what I really love about freeride," says Brown, who competed in Proving Grounds, a Rampage qualifier, in 2019, and attended Formation in a supporting role, due to a broken collarbone. "It's an art form rather than just a race."
As the first of two riding days began, Bergemann set an early standard. Her line was done; she was ready. "I was super stoked and eager to get on my bike after several days of digging and thinking about riding," she says. As the other women prepped in the parking lot, Bergemann soared over the gap of her final jump. Seeing Bergemann ride, Parker, who was present to mentor the riders, recalls thinking, "Oh, it's so on now."
For Holden, the moment felt like validation. "It gives me chills just thinking about it," she says. "It was the first riding day and there was so much tension. All of a sudden, we all saw Hannah grease the gnarliest line. It really set the tone for the whole thing."
But learning to ride the steep terrain had its challenges. Like her peers at Formation, Gatto had raced World Cup downhill. In 2014 a severe concussion put her racing career on hold, and she redirected her energy to filming, bikepacking and hitting big jumps in her spare time. "I was just feeling like I want to ride big chutes and big ridgelines," she says. "It was always this pipe dream to go and see Rampage and ride out there." Formation offered a chance to chase that dream.
It's just so scary, that fear of crashing, because if you crash, you're done.
Gatto built a vertigo-inspiring line with steep drop-offs on either side. It included a heavy double drop. To make the first drop meant sending her bike flying off the edge of the cliff line. As she committed to the drop, Gatto could not see the landing, which sat far below her with its edges falling away into a steep canyon. If she missed her narrow landing patch, Gatto would plummet into the canyon below. "It's just so scary, that fear of crashing, because if you crash, you're done," she says. Gatto ended up skipping the first big drop.
Across the canyon face, Armstrong wrestled with a similar dilemma. As she rolled up to one of the drops on the party line, all she could see was sky. "I couldn't see the landing until my front wheel was nearly in the air," she says. After nearly missing the landing spot on her first run, Armstrong began setting out small rocks to guide her like the lights of a runaway.
Each evening at Formation, the riders and support crew gathered for a series of round-table discussions. One night they talked about fear. "I learned a lot about how the other girls deal with fear and the processes they go through," says Sandler. The sessions proved intense. As she has thought about future editions of the event, Holden has wondered how she might preserve the knowledge sharing, while giving the riders more downtime.
The insights into managing fear have had lasting value. "All these emotions we feel pushing boundaries, we're all doing similar things," says Gatto, who found inspiration from Parker. When she prepares to ski a big line in Alaska, Parker channels the confident voice in her head. "I named my confident person Chad," says Gatto. "Every time I went to try something, I could hear the girls yelling, 'Go Chad!' " Since Formation, Gatto has continued to hone the mental side of her game. Next time, she wants to make sure she's ready to hit every big drop.
For women's freeride, Formation was just a beginning. "I'm super excited to go back, because we know we can definitely trust the terrain more and go a bit harder," says Verbeeck. Both Parker and Rusch are eager to repeat their roles as diggers and mentors, too, while Holden is already jotting ideas in her notebooks as she drives around Bellingham.
"I was frickin' blown away by the talent and the skill of these women," says Rusch. "Seeing it up close was just really inspiring for me. I want to go back so much."
The riders all say they're ready for more chances to lift their freeride progression. Brown, for example, values the pressure that competitive events put on her to hit new features, but she'd love to see more events that share Formation's noncompetitive nature. "I think a lot of women get out of the sport because they feel that the only places to participate at a higher level are contests and not everyone is made for that," says Brown. She is hoping to see more space for women in freeride events such as the Fest Series.
Already Formation has changed career trajectories for some of the women. "Even in the past year, the industry has invested in women in a way that they haven't before," says Holden. Shortly after Formation, Bergemann and Sandler received invitations to travel to India with Teton Gravity Research and ride in their high-profile film project,
Accomplice
. Bergemann now has sponsorship support from Red Bull and Transition Bikes to chase her freeride dream. Armstrong says new doors have swung open for her, too, and she's shifted her focus away from racing to freeride.
After the COVID gap year, planning is underway for Formation 2021 to happen this May. Though she may tinker with the details, Holden expects the event to look similar to the 2019 edition with a combination of digging, riding and round-table discussions. She remains committed to keeping Formation a noncompetitive event. Holden has found a deep satisfaction in bringing her own experience with Rampage full circle and showing the world just what women riders can do.
"I just have this full-body high from knowing that women can ride there, and people believe and know that women can ride there now," says Holden. "To see a collective of women look good out there—once people could see that, it just changed everything."
Red Bull Formation returns to Virgin, Utah, from May 24-June 1.